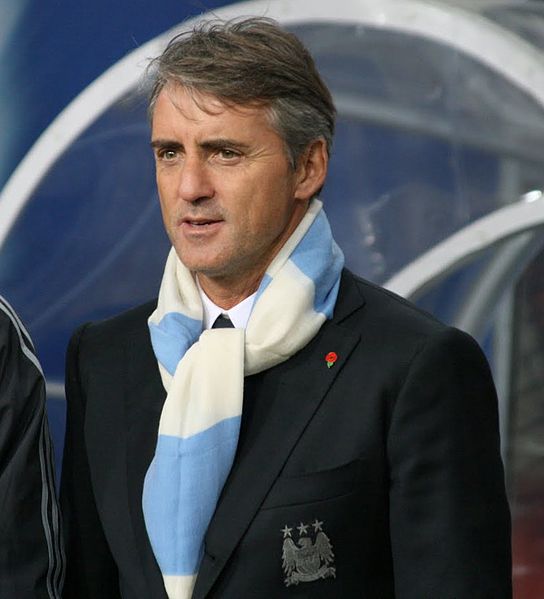 More often than not in professional football, we hear managers talking up their team's chances prior to the start of the season, demonstrating a hundred per cent belief in its ability to succeed and fulfill the expectations of their supporters. It is a popular trend in sport for the competitors to display a positive "can do" attitude, sometimes to the point where they aim even higher than realistic expectations would allow. But Manchester City manager Roberto Mancini has brought something of a fresh approach to assessing the chances of his team.
If we go back to the end of last season when City were slogging it out with neighbours Manchester United in the battle for supremacy, whenever he was quizzed on who would win the title race, Mancini always insisted that United were the favourites. Even when City beat United in their head-to-head clash to claim top spot with just two games remaining, the Italian refused to accept that his side was now the front runner in the title race. Instead, he claimed that United's fixtures were easy games, with City's being much tougher.
When asked who he thought stood the best chance of winning the championship this season, Mancini has again stated that Manchester United are favourites. Despite his side coming out on top last season after a dramatic final day in which the Blues stole the title with a last gasp winner, Mancini cited United's experience in challenging for the title as the reason they should be expected to reclaim their crown. He alluded to the fact that the Red Devils have been contesting the championship for the past 20 years, so they know better than anyone else, how to win.
Manchester United's signing of Robin van Persie from Arsenal only strengthened Mancini's preseason claims. The Italian has publicly stated that United now have the best strike-force in the league after pairing Wayne Rooney with the Flying Dutchman. Van Persie was named PFA and FWA footballer of the year last season and Mancini insists that any team would be better with RVP in it.
It seems pretty clear that the suave Italian is looking for every opportunity to play down his team's chances of retaining their championship. This is certainly an unorthodox tactic, especially coming from a manager who just lifted the Premier League title a few months ago. So what could be the reason behind Mancini's reluctance to "big his side up," so to speak? Does he really think they are not as good as their bitter rivals, so much so that he is already prepared to accept defeat?
It must be quite a change for United manager Sir Alex Ferguson, to be in a position where his main rival team has already played down his own chances of winning. Who can forget the famous title battle between Fergie and Kevin Keegan (then Newcastle manager) back in 1996? Many persons believe Fergie "psyched out" the Magpies' boss, sparking the infamous "I will love it we beat them! Love it!" rant. After the outburst, Newcastle went on to lose a 14 point advantage and surrender the title to United that season.
Sir Alex also had a contentious relationship with Arsenal boss Arséne Wenger, which often resulted in spats between the two and various "mind games" being played. But each manager would always back his own team to the hilt, and would never concede that his opponents were the better side — at least not until the title was mathematically decided.
Then there is former Chelsea boss Jose Mourinho, who was supremely confident in his own abilities and always made no secret of the fact that he believed his team was the best and was going to win the title, no matter what.
So why is Mancini's approach so different? What advantage can he gain by saying he believes their opponents have the upper hand? Well, this is where reverse psychology comes into play.
Instead of putting his players on a pedestal by saying how strong their squad is and how well they've trained and prepared to make themselves formidable, Mancini has instead attempted to shift the weight of expectation onto his opponents. By saying that he thinks United will win the title, he is effectively attempting to take the pressure off his own players.
This could help Manchester City in a number of ways. Firstly, if the players feel they are in a position where they have to win every game in order to live up to public expectations, then it will be very difficult for them as they might become too scared to put a foot wrong. This psychological burden would severely restrict City's free flowing game and make it very tricky to handle any setbacks they might encounter.
Secondly, this ploy eases the pressure off Mancini himself. If he has already stated that United are favourites at the outset, and the City fans find themselves in second place come May, then the fans (and perhaps Mancini) can console themselves in the knowledge that it was just as the great Mancini "predicted." If City eventually wins the league then the blue half of Manchester will be rapturous in applause and adulation of their manager, especially after Mancini kept their preseason expectations as low as he possibly could.
So don't buy into all the talk that the City boss doesn't have any fight left in him. While his comments might sound a little defeatist, in reality, he is employing very clever psychological tactics. Come May, his preseason claims will either be proved right or he will be a title winner again. Yes, Mancini has completely covered his own ass and at the end of this year's campaign, the Italian will be the only Premier League manager in a win-win situation.
Image courtesy of Roger Goraczniak