As football fans around the world prepare for the start of Euro 2012 this Friday, we cannot help but reflect on the contrasting circumstances of two of the tournament's most talked about teams. As summer is to winter, as joy is to sorrow, as hope is to despair – so is the mighty Spain to lowly England.
And why is there such overwhelming positivity among the Spanish contingent? There are a multitude of reasons. Firstly, as defending European and World Champions, the Spanish national team currently has the entire football world at its feet. Indeed, ever since Fernando Torres struck that decisive goal against Germany to seal the Euro 2008 title, Spain has not only gone on to dominate international football, but has also redefined the very manner in which players and managers approach the beautiful game. Ball possession has become more important than ever before and with the likes of Xavi, Iniesta, Alonso, David Silva and Sergio Busquets controlling the midfield with their tiki-taka gameplay, opposition players will do well not to become completely possessed themselves. Add to this Spain's lack of recent injuries, the cohesion of the squad, the experience of the manager and the return to form of former hit man Fernando Torres and it is easy to see why confidence is so high in the Spanish camp. [showmyads]
Then we come to England. Manager-less for months, rocked by issues of racism and beset by a spate of injuries to key players in the past two weeks, not much has gone right for the Three Lions since they qualified for the tournament. Wayne Rooney, perhaps England's one ray of hope, is suspended for the first two group games. After a dismal showing at World Cup 2010 and failing to even qualify for Euro 2008, confidence and expectation is at an all-time low for Roy Hodgson's men.
Danny Welbeck will lead the line in Rooney's absence
But despite all these problems, it is quite interesting to think that England supporters just might end up having a more entertaining ride at the Euros than fans of Spain. How is that possible? Research conducted at Ohio State University suggests that pain and despair actually play a significant role in our perception of excitement (Knobloch-Westerwick, David, Eastin, Tamborini & Greenwood, 2009). In this study, the researchers surveyed 113 college students while they watched the thrilling 2006 game between the Ohio State University Buckeyes and the University of Michigan Wolverines. In a subsequent interview with OSU Research News (2009), Prabu David, co-author of the study explains:
When people think about entertainment in general, they think it has to be fun and pleasurable.  But enjoyment doesn't always mean positive emotions. Sometimes enjoyment is derived by having the negative emotion, and then juxtaposing that with the positive emotion.
Also interviewed by OSU Research News (2009) was David's research partner Silvia Knobloch-Westerwick, who claims:
You need the negative emotions of thinking your team might lose to get you in an excited, nervous state. If your team wins, all that negative tension is suddenly converted to positive energy, which will put you in a euphoric state.
The results of the study indicate that while positive emotions do have the more significant effect on suspense, negative emotions also play a vital role. While it was previously thought that positive and negative emotions would cancel each other out, the experiment suggests that positive and negative feelings work independently, and both can contribute to enjoyment and entertainment.
"But what if England loses ALL three first round matches?" you might ask. "What if there is no distinct silver lining to lift the gloom?" How could such a debacle affect the England supporters? Well, after years of flattering to deceive and failing to deliver at major tournaments, English fans have finally come to realize that their national team is not in the same class as the likes of Spain or Germany. Frequent disappointments have led many to become habituated to heartache, so much so that disappointment probably doesn't hurt at all anymore. Conversely, the rarity of success can make many fans sensitized to even the most miniscule of achievements – a shot on target begins to feel like a goal, a consolation goal begins to feel like a victory. The smallest accomplishment can overwhelm sensitized fans with a sense of euphoria. Watch for unbridled celebration at the mere fact that Rooney will suit up for the third group match against Ukraine. A drowning man will clutch at straws. When you are as down as England is right now, the only place you can go is up and any change from the norm (coupled with a pint of beer) is good reason to rejoice.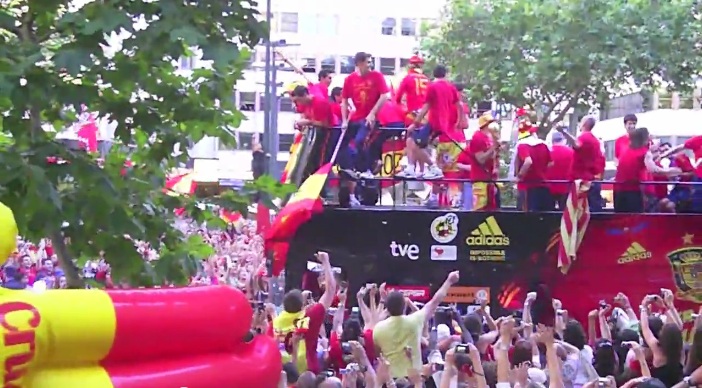 And what of those poor souls supporting Vicente del Bosque's men? If all goes exceptionally well, they might become bored as their team easily dismantles all opposers in ruthless tiki-taka fashion. Spain could very well win every match at Euro 2012, and if they do, it could be as painfully predictable as a sideways pass from Xavi. Expect them to become disenchanted if the thrill of the game is replaced by a sense of inevitability. The entire campaign might even become downright monotonous and insufferable. But let's be honest. Do we expect all these events and emotional responses to take place? Of course not! To be frank, we expect to see pandemonium from Madrid to Catalonia once the tournament has ended.
The point is, while the Spanish fans might go home with the Cup the possibility exists that they won't have experienced the sheer rollercoaster excitement enjoyed by the English supporters. It isn't much, of course. In fact it's hardly anything at all, but at least it's something for the English fans to smile about.
References
Knobloch-Westerwick, S., David, P., Eastin, M. S., Tamborini, R., & Greenwood, D. (2009). Sports Spectators' Suspense: Affect and Uncertainty in Sports Entertainment. Journal of Communication, 59(4), 750-767. International Communication Association. Retrieved from http://blackwell-synergy.com/doi/abs/10.1111/j.1460-2466.2009.01456.x
Ohio State University Research News (2009). Don't be happy, be worried: Sports fans need dose of negative. Ohio State University Research News. Retrieved June 7, 2012 from http://researchnews.osu.edu/archive/osumich.htm