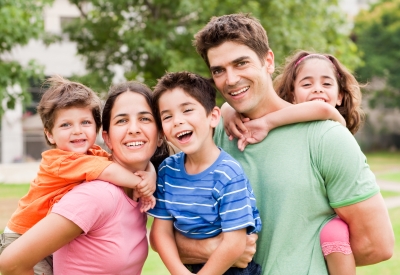 The dinner table is quiet, the kids aren't communicating and your spouse seems agitated. Does this sound familiar? Not to worry. The truth is that sometimes we fall into relationship slumps, even with our family. Luckily, there are a few quick and simple fixes that can warm up your household.
Improving Familial Relationships
Instead of the awkward silences and eye rolling, you can have your house roaring with laughter, develop stronger bonds and develop trusting relationships with one another.
Enhance Communication Skills
To improve upon communication skills is the key to creating a healthy family dynamic. The first and most simple thing you can do is, put forth more of an effort. Sure, daily work can really tire you out, and for most of us the work does not stop there. However even when extremely tired, your family is worth that extra effort. Just like with a great fitness regimen, you have to put in the effort to see the results. To engage your family in healthy conversations, try a fun activity, like typing up a silly questionnaire for the members of your family. "What is your favorite band? Would you rather…" are a few examples. When you're all finished, read them together. This is a great way to get to know one another and of course, take the pressure off of generating your own conversation off the top of your head. Before you realize it, you will not have to depend on crutches such as this as the conversation will begin to flow naturally.
Being a Family Unit
Placing an emphasis on the fact that your family is a team builds strong bonds that can't be beat. Things to help establish this cohesiveness include hosting a weekly family meeting to do things such as discuss big events, give awards or maybe map out a weekly meal plan so everyone gets a say. Cooking as a family is also the perfect team activity. Assign everyone a job; this provides the opportunity to talk with your children about their day while teaching them life skills and giving them responsibility within the household. The best part of this is that you will all be rewarded with a delicious meal in the end!
Family-Strengthening Activities
Bond-strengthening activities like video games or a family game night are a wonderful opportunity to compliment one another. Kids look forward to family game night with such excitement. If you don't own any games or aren't the video game type, head outdoors for an old school game of kick the can or tag; exercising together after dinner is always a bonus.
Without a doubt, the most important key to creating and maintaining a healthy family dynamic is to communicate more often and more sincerely. Express your emotions in a healthy way to your family and chances are they will end up reciprocating. Treat each other with respect and act respectful towards one another.
Strengthening your family's bond is a breeze if you follow these tips. They're little tricks that will positively change the way your family operates forever. When all measures have been exhausted, and things are not improving, it may be time to consider calling in a professional. Seeking assistance from a family therapist often produces successful results.
—————————————————————————————————
For a forensic and clinical psychologist in the Pennsylvania area, look into Dr. Bruce Mapes. 
Image courtesy of FreeDigitalPhotos.net