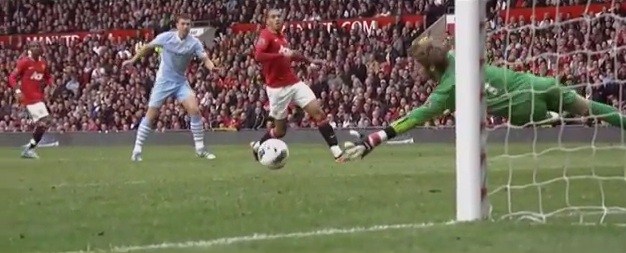 By hammering Manchester United 1-6 at Old Trafford, archrivals Manchester City might very well have handed them the Premier League title. Sounds strange doesn't it? Bear with me as I explain my reasoning.
Both Manchester clubs started the Premier League with a bang this season and their brand of attacking football had the purists purring. So as October 23 drew closer, the first installment of the highly anticipated Manchester derby was the talk of the town. The champions vs the noisy neighbors. Debt vs cash. Red vs blue. United vs City. [showmyads]
It wasn't even close. In fact, it was downright brutal. Despite leading 1-3 in the 89th minute and already assured of victory, City tore 10-man United apart, scoring goals in the 90th, 91st and 93rd minutes. At the final whistle Man City went 5 points clear of United and preserved their unbeaten start to the season. The Man United players left the pitch in complete and utter humiliation. It was their worst home defeat for over 56 years, and the fact that the loss was to City only rubbed salt into the wound. United manager Sir Alex Ferguson described the match as "a terrible defeat" and claimed "it was our worst ever day. It's the worst result in my history, ever. Even as a player I don't think I ever lost 6-1. I can't believe the score line. I'm shattered. It's an incredible disappointment."
After the loss many pundits were eager to see how Manchester United would respond, as it is well known in the football world that United usually bounce right back after suffering defeat. However it is was painfully clear that this particular loss to City was no ordinary defeat; this was a landmark result and was now a reference point in Premier League history.
The damage incurred from such a crushing defeat can easily propagate to far more than just "3 points dropped." If the team's confidence is broken then the desire wanes, the effort lessens and the form suffers. A single loss can drastically reduce performance, resulting in more defeats, each with its own cumulative negative psychological and subsequent physical effects. In fact, entire squads can get caught up in this vicious cycle, becoming hopelessly consumed by the spiraling gloom initiated by one devastating result. Just ask Arsenal.
As most persons expected, Manchester United's form was severely affected by the Manchester massacre. Whereas goals were being scored by the hatful in the opening weeks of the Premier League season (21 goals in the first 5 games), United could only muster 5 goals in the 5 league games immediately after the derby day debacle. Whereas the link up and combination play was sharp, inventive and intricate in the opening matches, United's approach became slow and methodical in the matches following the loss to City. This was not just a blip. The psychological blow was evident.
In the following weeks, Manchester United's troubles were further exacerbated by a relentless string of injuries to key players. The Red Devils have had as many as 11 first team players in the treatment room simultaneously, including talismanic captain and defensive rock Nemanja Vidic who is out for the entire season. So depleted was the squad that players have often been forced to play out of position in order for the club to field a full starting lineup. Striker Wayne Rooney and right back Rafael have both been deployed in central midfield; central midfielder Michael Carrick has had a stint in central defense and winger Antonio Valencia has already been pressed into service at right back.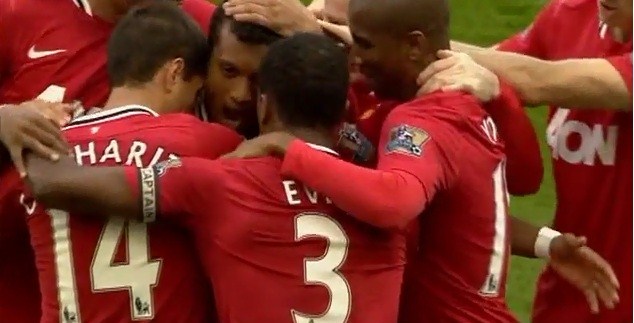 Yet despite the psychological setbacks and the shortage of manpower, the Manchester United players have somehow managed to stick together and keep winning. In fact, yesterday's victory over West Brom coupled with City's loss at Swansea saw United open up a 1 point lead at the top of the Premier League table. This is not to say that the blue half of Manchester hasn't been absolutely brilliant throughout the season so far. They have. The City players have become masters at picking teams apart with short incisive passes and clever runs, all orchestrated by the little Spanish maestro David Silva. City has also had excellent luck with regard to injuries, managing to keep important players out of the treatment room for extensive periods of time. But even so, they still find themselves 1 point behind United.
City boss Roberto Mancini has the quality, the depth, the money, the performances, has had no major injuries and has managed to destroy his fiercest title rivals in their own backyards. City has garnered all the plaudits. City has been inspirational. And yet they are still behind. Mancini must be wondering what else is left for him to do. At the moment, all the cards are turning up blue but his team is still behind a side that, by all rights, should be dead and buried. The Red Devils have come through poor form and a spate of injuries and are now beginning to pick up steam once more. They have proven that they have the grit characteristic of championship winning Manchester United sides in the past and they know how to survive.
In discussing the characteristic of grit, Peter Doskoch (2005) claims:
Self-discipline is probably also an important part of grit, and studies have shown that gritty people tend to be highly self-disciplined. But whereas perseverance implies the ability to keep doing something, self-discipline primarily implies the ability to refrain from doing something—to stop drinking, goofing off or straying from one's diet.
City strikers Carlos Tevez and Mario Balotelli would do well to pay keen attention to Doskoch's statement.
It seems the humiliating 1-6 loss which threatened to derail United's entire season, has somehow activated the "never-say-die" mentality which Sir Alex Ferguson reportedly ingrains into his players. There is now a quietly growing belief around Old Trafford that nothing short of divine intervention can keep this United team from the title. And the United faithful have the scars and the points to support their claims. Had City been satisfied with a 1-3 victory at the Theatre of Dreams things might have been very different, but instead City chose to rub United's noses in it. Bring on April 30 and second leg of the derby! For every action, there is an equal and opposite reaction. And Manchester United looks determined to settle some unfinished business with their noisy neighbors.
Reference
Doskoch, P., (2005). Passion and perseverance may be more important to success than mere talent. In a world of instant gratification, grit may yield the biggest payoff of all. The Winning Edge. Psychology Today. Retrieved on March 12, 2012 from http://www.psychologytoday.com/articles/200510/the-winning-edge
Related articles