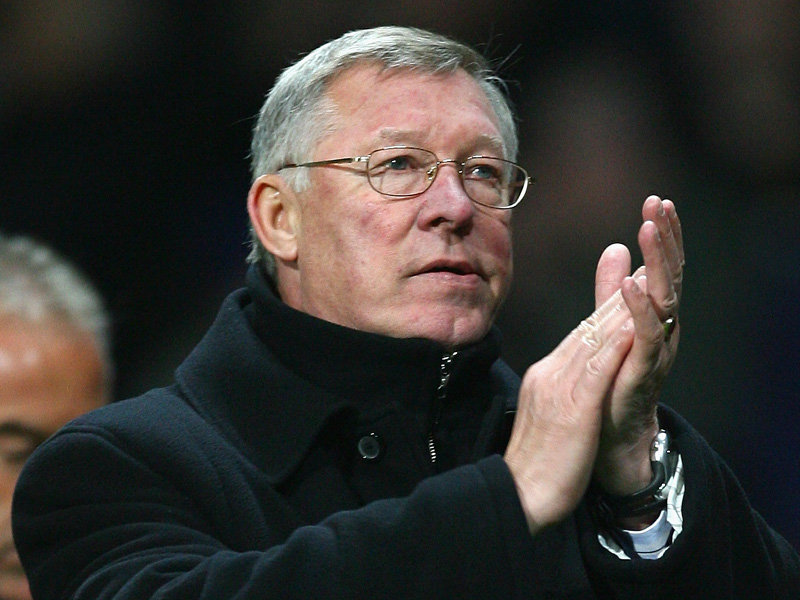 On Sunday February 5, 2012, fifty minutes into their highly anticipated match, Manchester United went 3-0 down against top four rivals Chelsea. Logic stated that it would be curtains for the Red Devils and that Andre Villas-Boas' side would take all three points. Surely United couldn't possibly come back against a team that was good enough to send them three goals down in the first place. It simply didn't make sense. But then again, things often don't in the world of football. That's the great thing about it. [showmyads]
Picture the scene. Despite dominating the first half, Man United eventually went behind due to a Jonny Evans own goal; Daniel Sturridge's cross on 36 minutes deflecting cruelly off the United defender. Five minutes after the break, the Red Devils were 3-0 down. First, a brilliant volley from Juan Mata, and then a towering header from David Luiz put the game seemingly beyond reach. For any other club, you would probably expect heads to go down at this point. For any other club, you would expect resignation to kick in. But this is Manchester United, and Manchester United has grit. After a thrilling encounter, the match ended 3-3.
"We define grit as perseverance and passion for long-term goals. Grit entails working strenuously toward challenges, maintaining effort and interest over years despite failure, adversity, and plateaus in progress" (Duckworth, Peterson, Matthews & Kelly, 2007). This adamant refusal to accept defeat, this grit, is what sets Manchester United apart from arguably every other club on earth. "Whereas disappointment or boredom signals to others that it is time to change trajectory and cut losses, the gritty individual stays the course" (Duckworth, et al., 2007). Even among talented players and teams, grit is what separates the best from the merely good (Packard, 2007).
But where does this grit come from and how did the Mancs obtain it? As the aforementioned definition suggests, grit is fundamentally linked to the long-term; steadfastly aiming for goals which are years away from being accomplished is a key factor in developing this trait. Manchester United is a club which prides itself on its rich history and its stability. The club is molded in the image of its long-serving manager, the irrepressible Sir Alex Ferguson and he is the primary reason for its gritty mentality.
Fergie has been at the helm of the Old Trafford outfit for over 25 years. In that time, he has ingrained the players under his charge with his never-say-die personality. "Grit, most likely, can be taught, or at least encouraged" (Doskoch, 2005). And the United players, from the youth team through to the first team, have all learnt that particular lesson firsthand. United's patience and commitment to stability allowed Fergie the necessary time to set long-term goals for himself, the players and the football club. Of course there have been setbacks, but with his focus fixed firmly on the future coupled with the backing of the club, Fergie likely viewed any imminent obstacles as merely minor delays in the outworking of his plans.
But you might ask, what makes Sir Alex so gritty in the first place? How does the field of psychology explain his incredible stick-to-it-iveness. Let's consider a few factors that likely contributed to the development of Fergie's grit:
1. Age and experience
"Our intuition is that grit grows with age and that one learns from experience that quitting plans, shifting goals, and starting over repeatedly are not good strategies for success" (Duckworth, et al., 2007). At 70 years of age and armed with 38 years of managerial experience (25 of which have been at Manchester United) Fergie is miles ahead of any other manager in the Premier League in terms of "know-how." He has seen it all. He has done it all. And he has learnt. When you already know what's coming, you don't change plans, lose focus or start over; you simply adjust.
2. The 10-year rule
The 10-year rule essentially says that it takes about 10 years of working hard at whatever it is you do, in order to become an expert at it. Practice, practice, practice. But with over 38 years of managerial experience, Fergie is something far beyond a mere expert in his field. If each passing decade added a higher level of expertise to the fiery Scotsman's ability to manage his football team, we would struggle to find suitable words to describe him today.
Good, better, best
Expert, more expert, most expert,…(insert adjective for Fergie here)
3. Grit promoting qualities
"Passion – It is this sort of fervor and fascination that might just be the cornerstone of grit" (Doskoch, 2005). Other positive qualities which foster the development of grit are ambition, self-discipline and optimism. Sir Alex Ferguson has all these traits in abundance. Consider some of his classic football quotes:
Passion – "My greatest challenge is not what's happening at the moment, my greatest challenge was knocking Liverpool right off their f**king perch. And you can print that" (Sir Alex Ferguson responding to Alan Hansen questioning Sir Alex Ferguson's future as Manchester United manager in September 2002 in the Guardian).
Ambition – "At the end of this game, the European Cup will be only six feet away from you and you'll not even able to touch it if we lose. And for many of you that will be the closest you will ever get. Don't you dare come back in here without giving your all"
(Sir Alex Ferguson's half time team talk during the 1999 European Cup Final).
Self-discipline – "I'm privileged to have followed Sir Matt because all you have to do is to try and maintain the standards that he set so many years ago"
(Sir Alex Ferguson after equalling Sir Matt Busby's Premiership record).
Optimism – "Only true champions come out and show their worth after defeat- and I expect us to do that" (Sir Alex Ferguson after been beaten by Arsenal for a second time in the league 2006 season).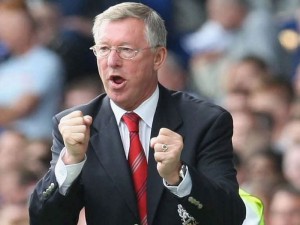 Fergie's infectious grit and determination are the foundations on which Manchester United's modern day success is built. How many times have we seen United come back from the dead to steal victory in a game they never remotely looked like winning? Who can forget the famous 1999 Champions League final at the Nou Camp in Barcelona? United were a goal down to Bayern Munich after 90 minutes, but somehow managed to turn the game around with two goals in injury time and seal a famous win that completed a terrific treble that year.
There is also the incredible comeback against Tottenham Hotspur on September 29, 2001. Sir Alex Ferguson's men were 3-0 down at half time, yet managed to score 5 times in the second half and come away with an astonishing 5-3 victory at White Hart Lane.
Sir Alex Ferguson's grit is embedded in Manchester United's DNA, and Fergie has been careful to maintain a healthy mix of "old heads" and younger players within the squad over the years. So it was not too much of a surprise that the Man United players were able to turn things around in their most recent match against Chelsea. They took a point from a situation where most teams would have already thrown in the towel. Manchester United players are renowned for playing right up until the final whistle and the have sneaked so many points and so many wins with last minute goals that it has become something of a cliché. Are they beaten? They are NEVER beaten. After many years of diligent work and seeing his philosophy bring such rich rewards today, it's all Fergie can do not to smile.
Football, as with all sports, is as much about perseverance as it is about intelligence, talent and technique. Clubs like Chelsea and Manchester City need to realize that consistent excellence is grounded in years of stability and hard work, not just financial resources.They say Rome wasn't built in a day. On this evidence, neither was the grit and  sustained success of Manchester United Football Club.
References
Duckworth, A. L., Peterson, C., Matthews, M. D., & Kelly, D. R., (2007). Grit: Perseverance and passion for long-term goals. Journal of Personality and Social Psychology, 92 (6), 1087–110. doi: 10.1037/0022-3514.92.6.108. Retrieved on February 16, 2012 from http://www.sas.upenn.edu/~duckwort/images/Grit%20JPSP.pdf
Doskoch, P., (2005). Passion and perseverance may be more important to success than mere talent. In a world of instant gratification, grit may yield the biggest payoff of all. The Winning Edge. Psychology Today. Retrieved on February 16, 2012 from http://www.psychologytoday.com/articles/200510/the-winning-edge
Packard, E., (2007). Grit: It's what separated the best from the merely good. Monitor on Psychology, 38(10), 10. Retrieved on February 16, 2012 from http://www.apa.org/monitor/nov07/grit.aspx
Disclaimer: This document may contain copyrighted material (pictures) whose use has not been specifically authorized by the copyright owner. WIP is making this article available in our efforts to advance the understanding of grit, optimism, determination and other positive psychology traits in an educational setting online. We believe that this constitutes a 'fair use' of the copyrighted material as provided for in section 107 of the U.S. Copyright Law. If you wish to use this copyrighted material for purposes of your own that go beyond 'fair use,' you must obtain permission from the copyright owner.
Related articles