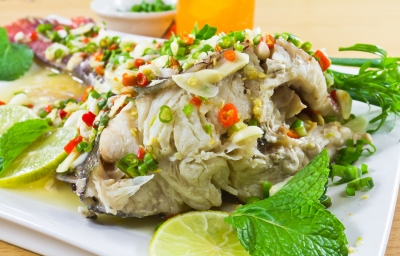 Calling all cooks! Food psychologists have discovered a whole new ingredient which can add some extra zing to all your culinary creations! Research shows that using evocative and descriptive menu labels can actually improve a diner's perception of a meal, provided the food was of reasonable quality.
 The experimenters conducted a six-week cafeteria study on 140 adults and changed the names of six popular food items that were offered twice per week. The names of each food item had been pre-tested and found to be suitably descriptive and appealing. The newly re-named foods were Succulent Italian Seafood Filet (vs. Seafood Filet), Traditional Cajun Red Beans with Rice (vs. Red Beans with Rice), Homestyle Chicken Parmesan (vs. Chicken Parmesan), Tender Grilled Chicken (vs. Grilled Chicken), Satin Chocolate Pudding (vs. Chocolate Pudding) and Grandma's Zucchini Cookies (vs. Zucchini Cookies). The foods were rotated with different names on different days and each subject who selected a re-named food was asked to provide information on his/her dietary habits, sensory perceptions, caloric intake as well as open-ended feedback on the food eaten (Wansink, van Iteersum & Painter, 2005). [showmyads]
The results showed that subjects who tasted products with sexy, descriptive menu names found the food more tasty and appealing than subjects who ate identical foods with non-evocative names. The experimenters also noticed that post-consumption comments given by the subjects indicated that they were influenced by prior taste expectations in a manner more deliberate and less automatic than most research usually claims (Wansink et al., 2005).
Food names clearly give us ideas as to what we expect food to taste like and they also influence our perception of food recently consumed. This information is especially useful to dietitians and nutritionists and can help with the introduction of new foods into personal diets. A rose by any other name would smell as sweet, but it seems that food with a sexier name is a helluva lot tastier!
Reference
Wansink, B., van Ittersum, K., & Painter, J. E. (2005). How descriptive food names bias sensory perceptions in restaurants. Food Quality and Preference, 16(5), 393-400. doi: 10.1016/j.foodqual.2004.06.005
Photo courtesy of Stoonn / FreeDigitalPhotos.net
Related articles