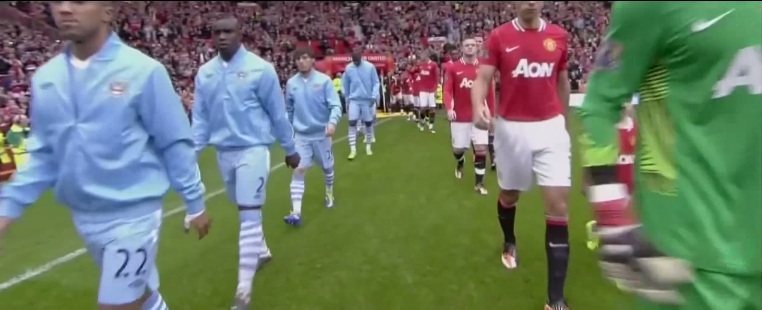 They say money can't buy happiness. And they might be right. Trophies though, are another matter entirely. After buying winning the FA Cup during last year's campaign, Manchester City has bought played its way to the top of the table at the midway point of the 2011-2012 Premier League season.
And let's be honest. City has been absolutely brilliant. With the likes of Aguero, Kompany, Silva, Balotelli and Yaya Toure (more on him later) all in fine form, opposition managers and players have been left with heads in hands and backsides on pitches, respectively, all across England.
So why should the blue half of Manchester be concerned about a sputtering United side they destroyed 1-6 at Old Trafford? There are important 3 reasons:
 1. Manchester United is in a slump
[showmyads] "Not the most compelling reason" you might say. Poor performances coupled with the mental and physical frustrations of trying too hard (and failing) to succeed are hallmark signs of a team in a slump. "Arsenal syndrome" I like to call it. If left unchecked, the condition can take on a life of its own and quickly spiral out of control, destroying the confidence of players and teams along the way. The key to getting out of a slump is to focus on the basics of football. Pass, move, shoot. Keeping things simple increases the likelihood of successfully completing a pass/shot on goal and reduces the mistakes usually associated with overly complicated gameplay and unnecessary tricks (talking to you Nani). Task motivation is essential. To encourage task motivation, leaders need to build what Psychologists call a mastery motivational climate which pulls teammates toward task motivation and away from ego motivation (Shields & Bredemeier, 2009, pp. 113-114).
The advantage the Man United squad has in this regard is that it contains a plethora of highly experienced players (Giggs, Ferdinand, Evra and Rooney come to mind), who all have strong leadership abilities and who will be able to guide the young new recruits through their current rough patch. These veterans know that once the players are playing well and executing their assigned roles, the winning will take care of itself.
And then there's Sir Alex, with hairdryer in mouth. Having lost at home to Blackburn and away to Newcastle in their last 2 league matches, the Manchester United players will have their tails up. On Sunday, United fans can expect a performance.
 2. Yaya Toure is out
If it looks like a tank, sounds like a tank and is as strong as a tank, then most likely it's Yaya Toure. Along with the little Spanish geniuses David Silva and Juan Mata, Yaya Toure is arguably among the top 3 midfielders in the Premier League right now. He has been immense this season, adding blistering pace and pulverizing power to complement the artistry of Silva in the Man City midfield. He is the heartbeat of the team. And he will be missing. Yaya Toure and brother Kolo are already off to the African Cup of Nations to represent the Ivory Coast in the 2012 edition of the competition. If United's goal is to win at all costs, nothing will raise belief and boost confidence like seeing their opponents weakened before they've even thrown their first punch. Manchester United players, coaching staff and fans will breathe a collective sigh of relief at not having to come up against this irresistible force tomorrow.
 3. Man United 1-6 Man City
City's 1-6 demolition of United at Old Trafford is the talk of the season so far. While the game would have been difficult to stomach for all the United players, it would have been particular harrowing for the youngsters who were brutally put to the sword on the night. David de Gea, Chris Smalling, Phil Jones and especially Jonny Evans will not soon forget the manner in which City tore them apart. But, if they possess the mental strength required to succeed at this level, they can use this past humiliation to their advantage.
Players play matches in order to win. We might refer to this as the structural goal of the contest and it is the basic reason footballers take to the field. However there are also personal goals to consider within the realms of competition. For younger players looking to establish themselves in the team, their personal goals likely include learning, individual growth and enjoyment. "Some important personal goals can be advanced more by losing than by winning. Losing can help build resilience and perseverance; it can help identify weaknesses that, when addressed, strengthen performance" (Shields & Bredemeier, 2009, pp. 125-126).
City clearly schooled United in October, but has the lesson been learnt? Everyone will be watching to see if the United players have made the necessary adjustments in order to give a better account of themselves this time around. The pundits are all tipping Man City to win, but this is not the type of match you would bet your house on. City are on a roll, but only a fool would ever write Manchester United off.
 Reference
Shields, D.L., & Bredemeier, B. L. (2009). True competition: A guide to pursuing excellence in sport and society. Champaign, IL: Human Kinetics.