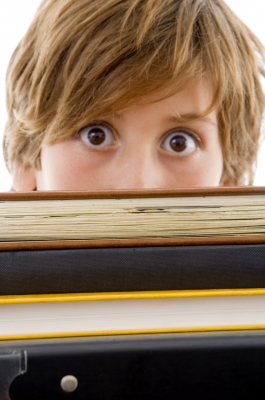 Clinical psychology defines a phobia as a persistent and usually irrational fear of a specific object or scenario, often disproportional to the actual danger posed. People will go to great lengths to avoid their phobias, but when an encounter is unavoidable, sufferers typically endure the event with acute distress.
Some phobias are very common. For example, many people exhibit a fear of heights or a fear of small enclosed spaces. Other phobias though, might be a bit more….err…."unique."
Consider our alphabetized list of weird phobias below:
[showmyads] 1. Anablephobia – Fear of looking up
2. Arachibutyrophobia – Fear of peanut butter sticking to the roof of one's mouth
3. Barophobia – Fear of gravity
4. Chrometophobia – Fear of money
5. Chirophobia – Fear of hands
6. Chromatophobia – Fear of colors
7. Cibophobia – Fear of food
8. Clinophobia – Fear of going to bed
9. Defecaloesiophobia – Fear of painful bowels movements
10. Dendrophobia – Fear of trees
11. Dipsophobia – Fear of drinking
12. Eleutherophobia – Fear of freedom
13. Epistemophobia – Fear of knowledge
14. Euphobia – Fear of hearing good news
15. Francophobia – Fear of France or French culture
16. Frigophobia – Fear of cold things
17. Geniophobia – Fear of chins
18. Genuphobia – Fear of knees
19. Hedonophobia – Fear of feeling pleasure
20. Hippopotomonstrosesquipedaliophobia – Fear of long words
21. Ideophobia – Fear of ideas
22. Ithyphallophobia – Fear of seeing, thinking about or having an erect penis
23. Japanophobia – Fear of Japanese.
24. Judeophobia – Fear of Jews
25. Koinoniphobia – Fear of rooms
26. Kyphophobia – Fear of stooping
27. Linonophobia – Fear of string
28. Megalophobia – Fear of large things
29. Microphobia – Fear of small things
30. Neophobia – Fear of anything new
31. Nomatophobia – Fear of names
32. Numerophobia – Fear of numbers
33. Ombrophobia – Fear of rain or of being rained on
34. Omphalophobia – Fear of belly buttons
35. Optophobia – Fear of opening one's eyes
36. Pedophobia – Fear of children
37. Peladophobia – Fear of becoming bald and fear of being around bald people
38. Phagophobia – Fear of swallowing
39. Phobophobia – Fear of phobias
40. Rectophobia – fear of rectums
41. Russophobia – Fear of Russians
42. Selenophobia – Fear of the moon
43. Somniphobia – Fear of sleep
44. Sophophobia – Fear of learning
45. Telephonophobia – Fear of telephones
46. Thaasophobia – Fear of sitting
47. Urophobia – Fear of urine or urinating
48. Verbophobia – Fear of words
49. Xanthophobia – Fear of the color yellow or the word yellow
50. Zelophobia – Fear of jealousy
Photo courtesy of imagerymajestic / FreeDigitalPhotos.net
Related articles