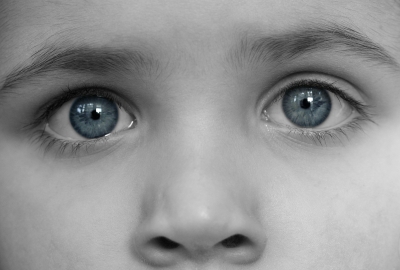 "Look at me when I'm speaking to you!" a mother's shrill voice was heard by all on aisle 9. Her snotty nosed offspring gathered his strength following the morning's tantrum. With his head down he hardly eyeballed anything else but the floor. All the while his mother leaned in, trying to manoeuvre his chin upward.  Meeting his mother's gaze in his time of public reprimand is important and he would do well to learn this early on. Woefully unaccustomed to shopping for recipe ingredients, yours truly was three shelves down, deep in search for nutmeg.  From this vantage point, I noticed how "Shrilly" was very content to receive but just a quick glimpse of compliance from "Snotty Nose," before pivoting out of embarrassment into aisle 10.
The eyes are such an important instrument in 
body language
. While we grow adept at disguising our more subtle feelings, we remain terribly poor at concealing that which is more primal and rudimentary — cave-person survival. Our cave dwelling brains have yet to catch up to the power play of modern society.
How you exchange gazes while communicating with someone, is a powerful guide to social hierarchy. One way we can quickly measure this is by calculating a Visual Dominance Ratio. In any given conversation, your ratio is equal to:
The percentage of time you look into someone else's eyes while they are talking
Divided by
The percentage of time you look into their eyes while you're talking.
If you are more likely to look away while you are speaking than when you are listening, the ratio will be lower than 1. When it is higher than 1, then you are more likely to look away when you are listening than when you are speaking. So the lower it is, the less dominant you are; the higher it is, the more dominant you are (Mazur, Rosa, Faupel, Heller, Leen, & Thurman, 1980). There have been numerous studies undertaken which have shown this measure to be extremely reliable and capable of reflecting minute details of social hierarchy (Dovidio, Heltman, Brown, Ellyson & Keating, 1988).
Think about the percentages (regardless of who has more to say) the next time you are in conversation with your boss. Be natural but be aware of how it plays out. Your boss will not be totally dominant, so don't expect your ratio to be zero. Notwithstanding, the more dominant your boss is, the closer this number will be to one. A number closer to 0.5 reflects quite a lowly position. Now think about your colleague… is he in similar position to you? This is where it gets interesting. The score is accurate enough to measure this comparison too (Dovidio et al, 1988).
This is because the Visual Dominance Ratio is so strongly routed in our unconscious mind that it makes for a very reliable gauge.
This makes for a clever way to observe others and yourself, especially in situations where the usual rules of engagement are muddied. Consider a conversation with a university lecturer or the mechanic fixing your car. In both examples, the usual rules of institutional hierarchy are suspended. In both cases, you are essentially paying for a service but not fully in control. What does the ratio reveal here?
If you are bold and foolish enough to try, you can experiment:  
Notice that when you're your boss at work is speaking to you; it is very difficult to look away. If you were to try to, you'll feel yourself fighting a very primal force within you. If your boss is truly the megalomaniac you suspect, then you'll find your unconscious mind overriding your conscious experimentation.
The next time you meet someone with whom you would likely share a ratio closer to 1, attempt to make unnatural changes in your gaze. Attempt to RETAIN IT MORE when you're speaking and WITHHOLD IT when they are speaking. Notice how even the most split-second timing can alter the dynamic. Also, notice how someone wishing to retain, share or re-establish natural dominance will unconsciously change his or her gaze. Overdoing this, however, in social situations, will of course lead to quite an uncomfortable conversation, so don't do it too often!
The Visual Dominance Ratio is used as an unconscious and (in the above example) a conscious parenting tool. It is a measure of leadership potential and a subliminal persuasion technique. It's a great tool to have in the belt of a Human Life Detector, and one of the best ways you very quickly deduce much about another's self-esteem, and what they think of you.
References
Dovidio, J. F., Brown, C. E., Ellyson, S. L., Keating, F. C. et al (1988). The Relationship of Social Power of Visual Displays of Dominance between Men and Women. Journal of Personality and Social Psychology, 54 (2) 233-242.
Mazur, A., Rosa, E., Faupel, M., Heller, J., Leen, R., &., Thurman, B (1980). Physiological aspects of communicationvia mutual gaze. American Journal of Sociology,86(1) 50-74.
Image courtesy of FreeDigitalPhotos.net
Related articles